Many of us who have been affected by mold toxins have suffered from MARCoNS (Multiple Antibiotic Resistant Coagulase Negative Staphylococci). This is a story about my journy to conquer MARCoNS.
MARCoNS is an antibiotic resistant staph that takes up residence deep in the nasal passages. It is often protected by a biofilm that makes it even harder to remove.
Although I am not in any way an expert on the material discussed in this article, I will explain my personal experience in getting rid of MARCoNS. The testing was provided by my doctor and the treatment protocols were recommended by him.
Testing Before Treatment
Prior to treating, I did a lab test to see whether or not I actually had a MARCoNS infection.
Sampling For Testing
The samples for testing were collected in my home by myself. It involves inserting a long nasal swab (looks like a long Q-Tip) deep into each nasal passage and rotate it to cover the cotton material with a sample.
It sounds horrible. It really isn't that bad. Quite better than having someone else doing it to you.
As the lab description shows, we are looking for a resistant Methicillin.
The lab tests below were sampled on or about December 20, 2018. They show that indeed a resistant strain of Methicillin did exist in my sinus cavities.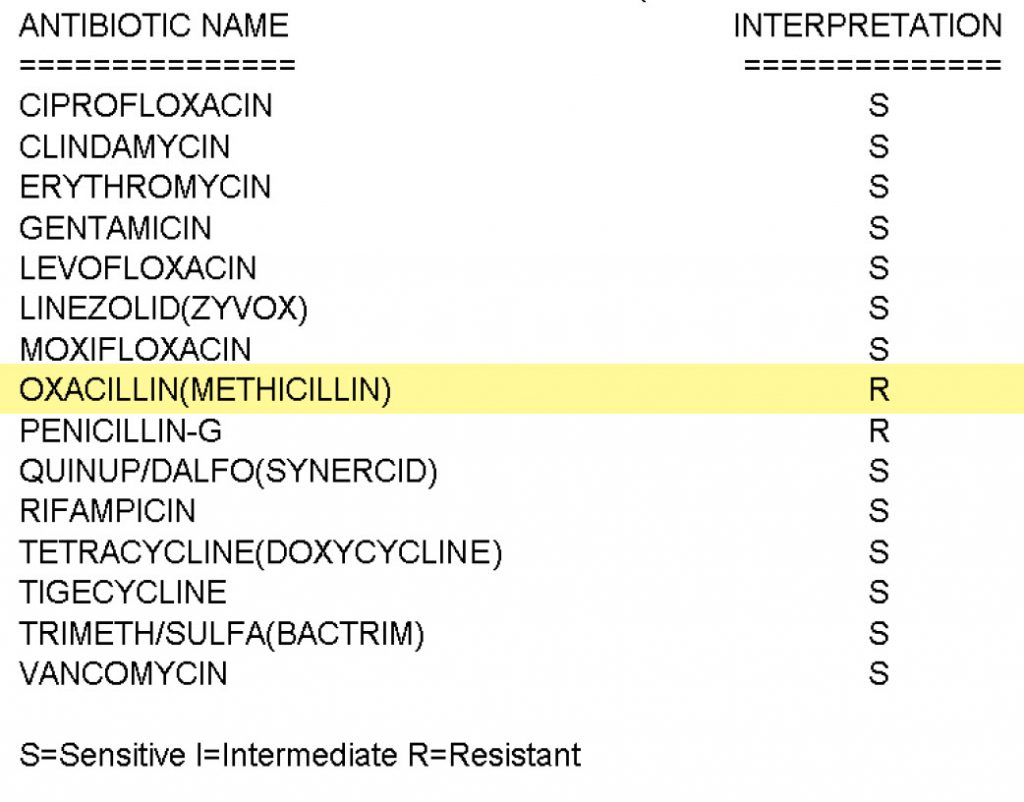 My Treatment Protocol
My treatment involved using a nasal spray made from Biocidin,
It is amazing and wonderful to me that Biocidin is an all natural broad spectrum combination made from botanicals.
Bilberry extract (25% anthocyanosides), Noni, Milk Thistle, Echinacea (purpurea & angustifolia), Goldenseal, Shiitake, White Willow (bark), Garlic, Grapeseed extract (min 90% polyphenols), Black Walnut (hull and leaf), Raspberry, Fumitory, Gentian, Tea Tree oil, Galbanum oil, Lavender oil (plant and flower), Oregano oil (plant and flower).
Delivery Mechanism
There are several ways to deliver the Bicidin. The instructions given to me were:
Place 18-22 drops of Biocidin liquid drops or 1 pump of Biocidin LSF to either a netipot with saline solution or added to 1 oz of bottle prepared saline nasal spray (common drugstore brands have removable top. Use several times daily until improvement is seen. In addition use in nebulizer with mask or nasal cannula attachment with 5 drops of Biocidin drops or 1 pump of Biocidin LSF to prepared solution to fill line (depending on manufacturer). Use 1-3 times daily until symptoms relieve or up to 4-6 weeks for chronic cases. Discard bottle after duration of cold/flu.
I am not a fan of Neti Pots, so I chose to use the nasal spray method. I have used these nasal spray bottles (Amazon) in the past and really like them.

I placed one fluid ounce of normal saline solution in the spray bottle. I followed that with about 20 drops of Biocidin and shook it briefly.
For the next 6-8 weeks, I sprayed 2-3 pumps into each nostril about 3-4 times each day. The hardest part was to remember to do it regularly.
Testing After Treatment
These are the test results after using Biocidin. You can see that the test results for Methicillin has converted from R (Resistant) to S (Sensitive). That it medical speak for "it is gone."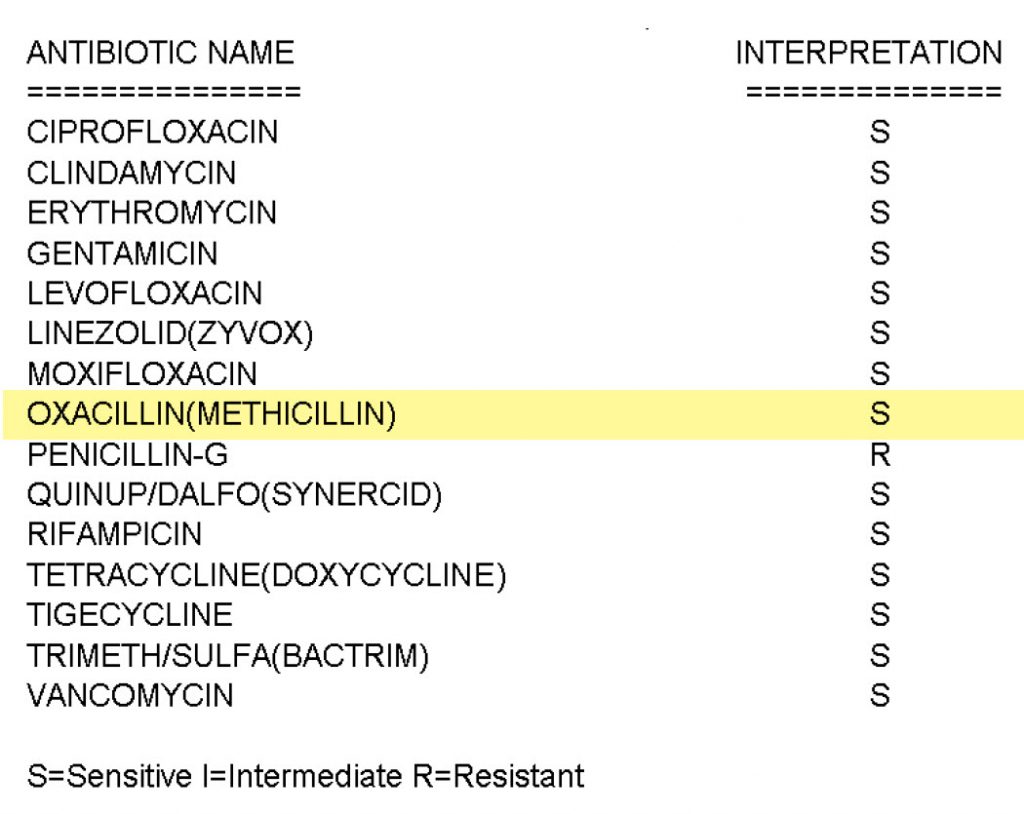 How We Can Help
If you would like to try this treatment yourself, we can supply Biocidin. Please send an email request to WellnessFromWithinLive@gmail.com.
If you would like to talk to Alessandra about your health situation, feel free to make an appointment for a free initial conversation.